Book Club – with Westwood Unitarian
When:
27 March 2019 @ 7:00 PM – 8:30 PM
2019-03-27T19:00:00-06:00
2019-03-27T20:30:00-06:00
**Please note the change in book title…Dan Barker's book was proving difficult to source**
The FreeThinker Book club meets in the basement of the Westwood Unitarian Church at 7:00 PM on the last Wednesday of the month from Oct-March. The format varies but typically begins with a round table check-in and first reactions to the book. This is followed by a free ranging discussion, triggered by questions from other members.
All are welcome – atheists, humanists, agnostics, and theists and of course 'free thinkers!!
The club members have chosen the following texts for this coming season.
This month we are reviewing
Cows, Pigs, Wars, and Witches: The Riddles of Culture by Marvin Harris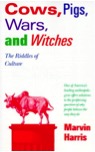 One of America's leading anthropolgists offers solutions to the perplexing question of why people behave the way they do.
Why do Hindus worship cows? Why do Jews and Moslems refuse to eat pork? Why did so many people in post-medieval Europe believe in witches?
Marvin Harris answers these and other perplexing questions about human behavior, showing that no matter how bizarre a people's behavior may seem, it always stems from identifiable and intelligble sources