Book Club – with Westwood Unitarian
When:
27 March 2019 @ 7:00 PM – 8:30 PM
2019-03-27T19:00:00-06:00
2019-03-27T20:30:00-06:00
The FreeThinker Book club meets in the basement of the Westwood Unitarian Church at 7:00 PM on the last Wednesday of the month from Oct-March. The format varies but typically begins with a round table check-in and first reactions to the book. This is followed by a free ranging discussion, triggered by questions from other members.
All are welcome – atheists, humanists, agnostics, and theists and of course 'free thinkers!!
The club members have chosen the following texts for this coming season.
This month we are reviewing
 The Good Atheist: Living a Purpose-Filled Life Without God by Dan Barker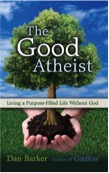 How Does an Atheist Respond to the Question, What Is the Purpose of Life?
For a Christian, it is faith that gives their life purpose. In his best-selling book The Purpose Driven™ Life: What on Earth Am I Here For?, Rick Warren says, "You must begin with God. You were born by his purpose and for his purpose."
But as a non-believer, your purpose resides in yourself; it is yours alone to discover and develop. It's about choosing to live your own life for your own reasons. No one can dictate your purpose. You decide.
This book will help you understand and appreciate why freely choosing to help and cooperate with others is the true path to finding purpose. Life does not need purpose: Purpose needs life. To punctuate this point, The Good Atheist includes inspiring biographies of humanity's true heroes—men and women who did not waste their lives as slaves to a God, but rather found purpose in enhancing life on this Earth for all of us.