Book Club – with Westwood Unitarian
When:
27 February 2019 @ 7:00 PM – 8:30 PM
2019-02-27T19:00:00-07:00
2019-02-27T20:30:00-07:00
**Please note the change in book title, Cows, Pigs, Wars and Witches has been moved to March**
The FreeThinker Book club meets in the basement of the Westwood Unitarian Church at 7:00 PM on the last Wednesday of the month from Oct-March. The format varies but typically begins with a round table check-in and first reactions to the book. This is followed by a free ranging discussion, triggered by questions from other members.
All are welcome – atheists, humanists, agnostics, and theists and of course 'free thinkers!!
The club members have chosen the following texts for this coming season.
This month we are reviewing
The easy way to understand atheism and secular philosophy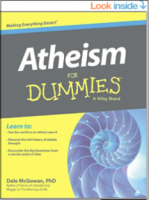 For people seeking a non-religious philosophy of life, as well as believers with atheist friends, Atheism For Dummies offers an intelligent exploration of the historical and moral case for atheism. Often wildly misunderstood, atheism is a secular approach to life based on the understanding that reality is an arrangement of physical matter, with no consideration of unverifiable spiritual forces.
Atheism ForDummies offers a brief history of atheist philosophy and its evolution, explores it as a historical and cultural movement, covers important historical writings on the subject, and discusses the nature of ethics and morality in the absence of religion.
A simple, yet intelligent exploration of an often misunderstood philosophy
Explores the differences between explicit and implicit atheism
A comprehensive, readable, and thoroughly unbiased resource
As the number of atheists worldwide continues to grow, this book offers a broad understanding of the subject for those exploring atheism as an approach to living.