Book Club – with Westwood Unitarian
When:
29 January 2020 @ 7:00 PM – 8:30 PM
2020-01-29T19:00:00-07:00
2020-01-29T20:30:00-07:00
The FreeThinker Book club meets in the basement of the Westwood Unitarian Church at 7:00 PM on the last Wednesday of the month from Oct-April. The format varies but typically begins with a round table check-in and first reactions to the book. This is followed by a free ranging discussion, triggered by questions from other members.
All are welcome – atheists, humanists, agnostics, and theists and of course 'free thinkers!!
Justice – What's the Right Thing to Do? by Michael Sandel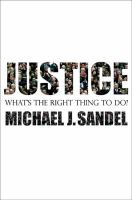 What are our obligations to others as people in a free society? Should government tax the rich to help the poor? Is the free market fair? Is it sometimes wrong to tell the truth? Is killing sometimes morally required? Is it possible, or desirable, to legislate morality? Do individual rights and the common good conflict?
Michael J. Sandel's "Justice" course is one of the most popular and influential at Harvard. Up to a thousand students pack the campus theater to hear Sandel relate the big questions of political philosophy to the most vexing issues of the day, and this fall, public television will air a series based on the course.
Justice offers readers the same exhilarating journey that captivates Harvard students. This book is a searching, lyrical exploration of the meaning of justice, one that invites readers of all political persuasions to consider familiar controversies in fresh and illuminating ways.
Affirmative action, same-sex marriage, physician-assisted suicide, abortion, national service, patriotism and dissent, the moral limits of markets-Sandel dramatizes the challenge of thinking through these conflicts, and shows how a surer grasp of philosophy can help us make sense of politics, morality, and our own convictions as well.
Justice is lively, thought-provoking, and wise-an essential new addition to the small shelf of books that speak convincingly to the hard questions of our civic life.
All invited, 7:00 PM April 24th in the Church basement!